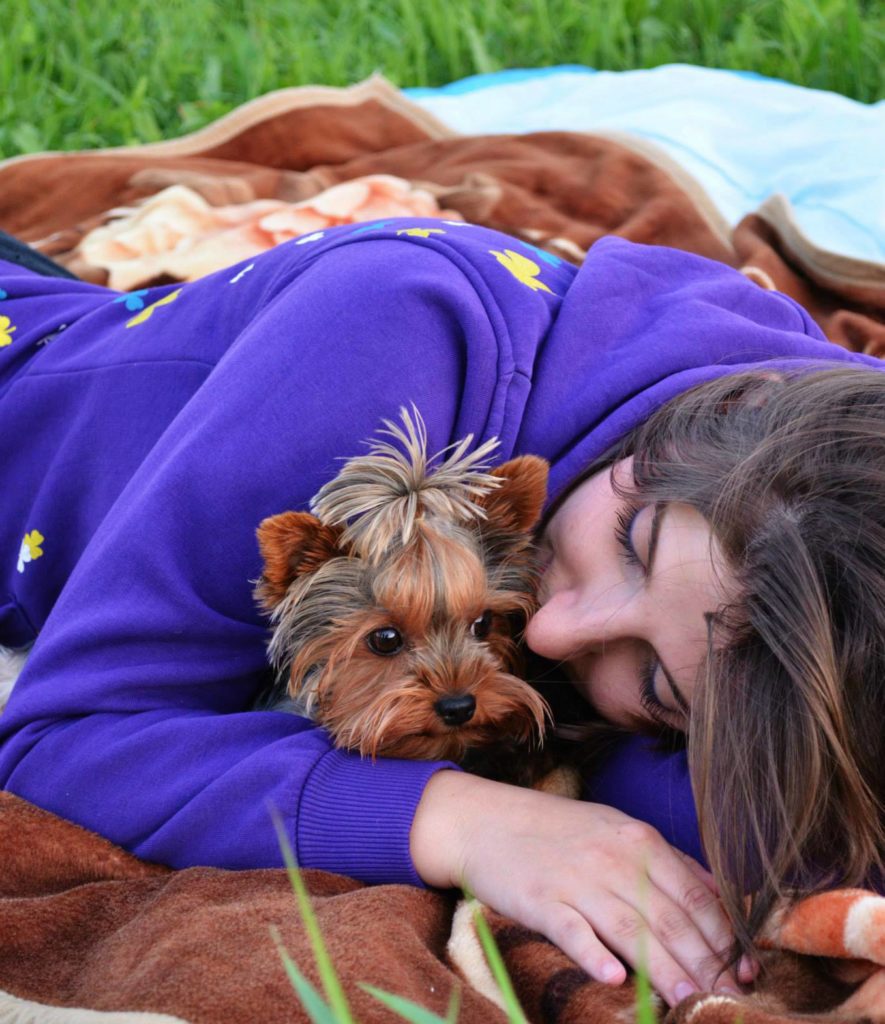 RO

Salutare dragilor,

Cred ca aceasta postare este cea mai grea postare pe care am scris-o vreodata. M-am tot gandit daca sa o postez sau nu, nu am spus nimanui despre ea si cred ca am inceput-o de vreo 3 ori si inca nu am reusit sa o termin. Sper ca de data aceasta voi reusi. Cei care imi urmariti blogul de ceva timp, probabil ca ati vazut ca categoriile postarilor s-au schimbat destul de mult pe parcursul anilor. Daca la inceput blogul meu era mai mult un blog de beauty, de-a lungul timpului a devenit un blog unde mai mult imi exprim cateva idei despre viata, sau va povestesc despre excursii, evenimente sau experiente.  Ei bine, dupa cum stim, viata nu e tot timpul roz, iar uneori, pe cand ne e lumea mai draga, ne da cate un ciomag peste cap si inima.

Asa s-a intamplat in data de 19 septembrie 2015 cand ne-am luat la revedere de la Maya pentru totdeauna.

Fiecare persoana care are un animalut de companie acasa este constient ca la un moment dat el va muri. Esti constient ca vei suferi mult cand acest lucru se va intampla, insa te astepti sa ai macar durata medie de viata pentru tipul de animal sau pentru rasa lui alaturi de el. Maya a fost un Yorkshire Terrier. Nu a fost primul nostru Yorkie. Cei care ne urmariti si pe facebook stiti probabil ca mai avem inca unul, in varsta de 9 ani care sta cu parintii mei.  Durata lor de viata se estimeaza sa fie intre 10 si 15 ani. O durata destul de rezonabila pentru un catel. Chiar daca si Skippy este destul de batran, toata viata lui el a fost foarte activ si sanatos. Are o viata foarte fericita si linistita. Stim ca atunci cand ii va veni lui randul va fi dureros, dar macar avem consolarea ca viata lui a fost cat se poate de buna pentru un catel. Cu Maya in schimb nu a fost asa.

EN

Hello my dears,

I think that this post i probably the most difficult one that i have written so far. I kept thinking if it was a good idea to post it, I didn't mention it to anyone and i think that i must have started it at least 3 times and so far I couldn't manage to finish it. Hopefully this time I can do it. Those of you who have been around my blog since I started it have probably seen that the types of posts I do have changed during these years. I started with beauty posts and then I transitioned into more lifestyle posts: life experiences, travel and events. Well, as we all know, life is not always perfect and sometimes when we think that everything is just right, it kicks us in the head and in the heart.

This is what happened on the 19th of September 2015 when we said goodbye to Maya for ever.

Every person who owns a pet is aware that at some point you will have to say goodbye to it. You know that you will suffer a lot when this happens but you expect to have it for at least the average life of that pet's breed or type. Maya was a Yorkshire Terrier. She wasn't our first Yorkie. Those of you who follow us on facebook probably know that we still have another one who lives with my parents. Anyway. Yorkies have a life of about 10-15 years. Skippy is currently 9 years old. He is a bit old, but his life is the best. He's always been quite active and healthy and although it will hurt like hell when he will pass away, we know at least that he had an awesome doggy life. That was not the case with Maya.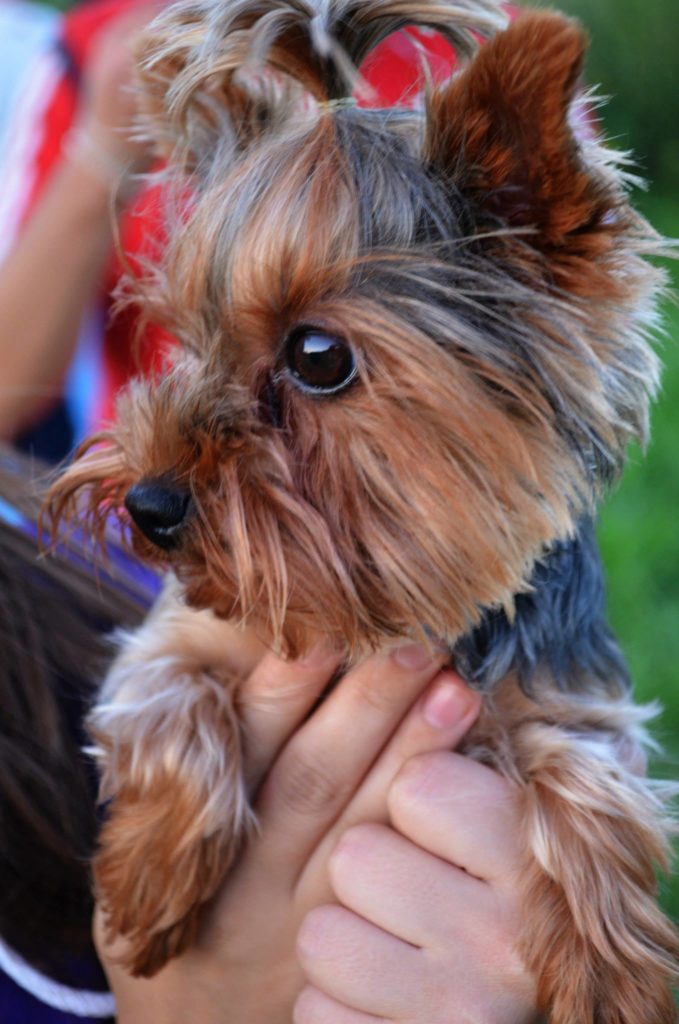 RO

Din pacate Maya nu a avut cea mai usoara viata si acest lucru este total din vina noastra, a mea in mod special. Cand l-am cumparat pe Skippy am avut un noroc destul de mare cu faptul ca Yorkie nu erau inca atat de populari in Cluj si Romania, erau putini crescatori si toti aveau grija de mamicile si de puiutii lor. Acum 5 ani cand am inceput sa cautam un al doilea catel, pentru ca Skippy sa aiba o mica surioara stiam ca nu trebuie sa cumparam de la cuplul din Dej care are "fabrica de catei". Am crezut ca ne-am interesat destul inainte sa o cumparam, insa ne inselasem.  Pe Skippy l-am luat cand avea 5 luni si nu l-am prins sa fie asa mititel, dar cand am primit-o pe ea, era doar un soricel mic de 200 de grame. Parintii nostri nu stiau ca planuiam sa mai luam un catel, asa ca la 2 noaptea m-am furisat din casa sa merg sa ma intalnesc cu un domn sa mi-o dea. Skippy si parintii mei au fost putin derutati cand au vazut-o prima oara, dar apoi s-au indragostit de ea.

Timp de o luna toata lumea a fost fericita pana cand, din neatentie, eram la etajul casei parintilor mei si am uitat usa care da la casa scarii deschisa. Evident ca Maya fiind curioasa si jucausa, s-a dus la scari si a picat de la etaj pe gresia de la parter. Cand am gasit-o dupa cateva minute am crezut ca si-a rupt coloana si ca moare. Nici nu stiam cum sa o ridic de pe jos ca sa nu ii fac mai mult rau. Impreuna cu fratele meu am dus-o pana la urma la un veterinar, care nu i-a dat nici o sansa si ne-a trimis acasa. Pana la urma am gasit alt veterinar, Cristian Popovici, care printr-o minune, impreuna cu echipa lui, dupa 2 saptamani de internare, perfuzii si grija continua a reusit sa o salveze si in sfarsit sa o putem duce acasa. Dar acela a fost foar inceputul. Ea  s-a lovit incredibil de tare la cap, lucru de care nu s-a vindecat niciodata complet. Daca la inceput se manifesta prin lipsa echilibrului si a coordonarii, pe parcursul anilor se vedea ca ea nu se comporta ca si alti catei. Era in lumea ei. Probabil si faptul ca l-a avut pe Skippy prin preajma a ajutat-o sa imite macar partial un comportament de catel, dar toti cei care au cunoscut-o au observat ca era diferita.

EN

Unfortunately Maya did not have the easiest life and that is because of us, but mostly because of me. When we got Skippy we were lucky because Yorkies were not so popular then as they are now, and the breeders were really good to their animals. But 5 years ago when we were looking for a sister for Skippy we knew of some breeders to avoid because they had puppy mills. We thought that we chose a good one when we got her, but we were wrong. When we got Skippy he had almost 5 months so he wasn't exactly little, but when we got her, she was just a 200 grams little mouse. My parents didn't know that we were getting her and so i snuck out at 2 in the morning to go an meet the guy who brought her from another town. My parents and Skippy were quite confused at first what it was, but then they loved her too :))

For about a month everything was just awesome, but then, one day at my parent's house i forgot the door to the stairs open and she fell for about 3 meters. I found her a few minutes later and i was convinced that he had broken her spine and was dying because she was laying very limp. We rushed to the first emergency vet and they told us that they couldn't do anything for her and sent us home. But then we went to another one, Cristian Popovici, who by a miracle, with the help of his team, after 2 weeks of intensive care managed to save her and we could finally take her home. The recovery was long because she hit her head pretty bad and she had balance and coordination problems. Even if physically she was recovering, she was never the same mentally. She copied Skippy's behavior sometimes and i think that helped a bit, but everyone who knew her could tell that she was different. Which didn't really bother us because we still had her.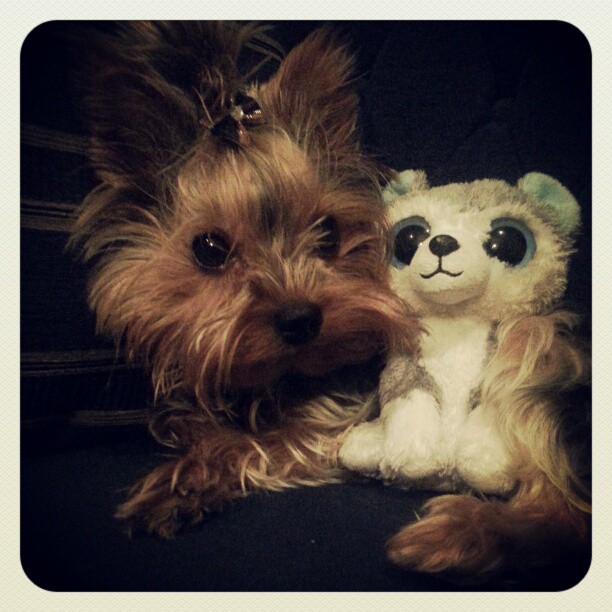 RO

Pe langa bolile speficice cateilor care provin din fabrici de catei (interventie chirurgicala pentru scoaterea dintilor de lapte, sensibilitate la mancare, statura mica, etc) a inceput ca cateodata, atunci cand se agita foarte tare sau era foarte cald afara sa horcaie putin. La inceput era foarte putin, apoi pe parcursul anilor problema a devenit tot mai pronuntata. Ne-am uitat pe internet, am vazut ca e o problema comuna la Yorkie, asa ca nu ne-am facut griji prea mari.Intre timp noi ne-am mutat din casa parintilor. Cat timp am fost studenti si stateam cu fratele meu era in regula pentru ca programul de student este destul de flexibil si ea nu ajungea sa stea foarte mult singura.  Apoi m-am mutat cu Didi si dupa un timp am decis ca pentru ea era mai bine sa stea din nou cu parintii mei, unde macar in timpul zilei statea cu Skippy. Prin iarna 2014-2015 a inceput insa sa fie tot mai rau asa ca am dus-o la veterinar la un consult. Initial a fost diagnosticata cu gat inflamat. A facut un tratament si apoi a fost mai bine o perioada. Apoi prin primavara a inceput sa fie tot mai rau. A fost tratata de bronsita,pneumonie si alte boli pulmonare pana in vara si nimic nu parea sa aiba efect. Apoi, dupa o cautare mai in detaliu pe internet am vazut ca uneori yorkie pot sa aiba colaps traheal care poate fi tratat cu tot medicamente, sau in cazuri extreme cu interventie chirurgicala. Este foarte simplu de diagnosticat, printr-o simpla radiografie. Problema era ca pe perioada verii cabinetul de radiografie de la Facultatea de Medicina Veterinara era inchis. Insa parca pe moment nici nu ne-am speriat prea tare, mai ales si pentru ca Maya avea boala de mult si ne-am gandit ca mai rezista 2 luni. Cand cabinetul s-a deschis i-am facut radiografie si a fost diagnosticata cu  colaps traheal. Problema era ca in acel punct deja problemele pulmonare erau atat de grave si gatul ii era atat de inflamat ca s-a decis sa se incerce sa se astepte putin pana se va mai vindeca pentru ca altfel nu ii puteau face anestezie pentru operatie din cate am inteles. Din pacate insa, situatia ei s-a agravat atat de tare pana in dimineata de 19 septembrie cand am primit minunatul mesaj "Maya nu mai este" de la mama mea.

Pentru un moment timpul parca a stat in loc. Una este cand esti constient ca catelul va muri (cum a fost cu catelul lui Didi care a murit din cauza unei tumori), dar noi pana in ultimul moment am crezut ca ea se va vindeca. Nici prin cap nu mi-a trecut ca poate sa moara. In mijlocul noptii a inceput sa nu mai poata respira, a fost dusa la veterinar, pusa cu masca de oxigen in incubator… dar totul a fost in zadar pentru ca la un moment dat nu a mai putut respira de loc. Nici nu pot sa imi inchipui cat s-a chinuit si ea si parintii mei care au mers cu ea la medic. In momentul respectiv nici nu s-au gandit sa ne sune si pe noi. Probabil nici eu nu m-as fi gandit. Insa acum parca as fi dorit sa fiu alaturi de ea in seara aceea. Macar si ca sa imi iau ramas bun. Asa pur si simplu o zi a fost.. a doua zi nu.

EN

She suffered of some of the things that dogs that come from puppy mills suffer (surgically removing the baby teeth, stomach sensibility, very small size) but after a while she started having these coughs whenever she was hot or she got excited. Even if at first it was very rare, it kept occurring more often after a while. We looked at the breed description and it seemed like a common issue and it said not to worry if it was mild so we didn't. After a while me and my brother moved out of my parent's house and Maya came to live with us. Since we were students our schedule was quite flexible and she wasn't left a lot alone. But then me and Didi moved in together, Maya came to live with us, and after we started working and she was left a lot alone, we decided that it would be better for her to go back to live with my parents and that way she could spend the day with Skippy if my parents were at work. In the winter 2014-2015 her cough  started getting worse so we took her to the vet. After the treatment they gave us she seemed to be better for a while. But then in spring the cough came again, worse than ever. She was treated for every pulmonary and respiratory disease, by several vets and nothing seemed to be working. After some online research i suspected that she had a collapsed trachea but by that time the summer had started and the Veterinary School where they had an X-Ray machine was closed. But she was still on antibiotics and we figured that she could go on for 2 more months. Then when we finally  could, we had the X-Ray and they set the diagnostic. The problem was that by that time her throat was so inflamed and she was so sick that they couldn't risk operating on her so they decided to wait a bit for her to improve. But then the message that ended it all came "Maya is gone" from my mom.

Time stood still. It is one thing when you know that your dog will die (like in Didi's dog's case who had a tumor) but we kept thinking until the last moment that she will get better. That is was treatable. The thought that she could die didn't even cross our minds. In the middle of the night she started having trouble breathing and my parents rushed her to the vet where they did everything they could, they had her on an oxygen mask in a incubator.. but it was all for nothing because in the end she couldn't breathe anymore and she died. I can't even imagine how much she suffered and how hard it was on my parents to be there. They didn't even think to call us that night. I probably would have done the same but i still with that i was there that night at least just to get to say goodbye. This way she was one day… and the next she wasn't.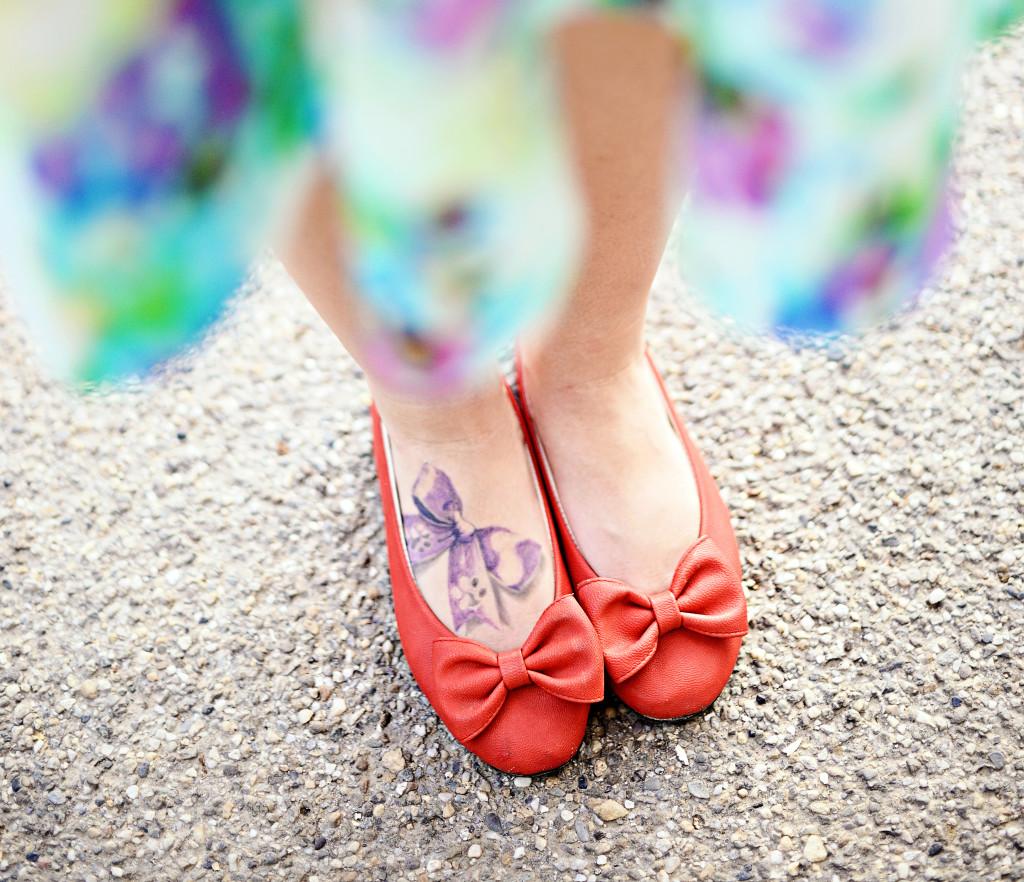 RO

Pentru cei care nu aveti catei/pisici care au murit nu va puteti inchipui tristetea. Si cat este ea de mare cand sti ca totul s-a intamplat din vina ta si ca putea fi prevenit daca aveai mai multa grija, urmareai mai mult simptomele, daca insistai mai mult la veterinar, etc. Nici macar nu pot sa zic ca am facut tot ce am putut. Pentru ca nu am facut. Si acum ea nu mai este.

Poate puteti zice… lasa ca iti iei altul. Sunt constienta ca la un moment dat ne vom lua altul. Dar in acelasi timp stiu ca acest lucru nu va sterge amintirea ei. Sau puteti zice ca e doar un animal. Treci peste. Chiar daca suna poate superficial, rau, urat, trebuie sa va spun ca atunci cand au murit ambii nostri bunici nu am suferit asa mult cum sufar inca dupa acest mic sufletel care nu mai este printre noi si care s-a chinuit atat de mult in scurta ei viata.  Sau mai puteti spune ca a trecut deja destul de mult timp… sa trec peste. Abia acum doua luni am reusit sa arunc cateva din lucrurile ei care mai erau la noi in apartament. Mai am cateva in dulap de care inca nu ma pot atinge, de cate ori deschid plasa nu ma pot opri din plans. Nu poate cineva sa ma intrebe ce s-a intamplat cu ea fara sa incep sa plang. Cat timp am scris aceasta postare am plans continuu. Inca nu ma pot uita la filmutele cu ea. Doare prea tare.

De aceea am decis, dupa 8 luni de zile de cand nu mai este printre noi sa imi tatuez pe corp, simbolic, ultimele batai ale inimii ei impreuna cu data la care a murit. Chiar daca in timp durerea si tristetea va disparea, vreau ca mereu sa am o amintire ca sa pretuiesc mai mult sufletelele de care avem grija pentru ca in orice moment ele pot sa se stinga. Dupa ce ea s-a vindecat acum 4 ani mi-am facut tatuajul pe picior pentru ea si Skippy, acum am decis ca e momentul sa marchez si ziua in care a plecat de langa noi.

EN

For those of you who don't have cats/dogs that passed away you can't imagine the pain of losing them. And how much bigger it is if you know it is your fault that it happened. If you had just payed more attention, checked the symptoms better, talked more to the vet, etc. I can't even say that i did my best to help her. Because i know that i didn't. And now she is gone.

You may say.. you can get another one. But that is not the point. Of course we can at some point but that does not mean that we will forget her. You can say.. she is just an animal, get over it. It might seam like a rude, mean or disrespectful thing to say, but when my grandparents past away it didn't hurt as much as it does now. Or you might say that enough time has passed by now that it should be fine. It hasn't. I managed to get rid of a few things of her two months ago, but i still have a bag in my closet which i can't open without crying. I can't answer a simple question to anyone about what happened to her because i start crying. I was crying the entire time i wrote this post. I still can't look at old videos of her. It hurts too much.

That is why i decided that after 8 months since she is gone i want a tattoo with her final heartbeats (symbolically) and the date she passed away. Even  if in time i will heal i want to always have a memory of this moment with me so that it would remind me to always cherish the little souls we have  in our care because at any moment they could be gone.  Four years ago, after she first survived her fall i got a tattoo on my foot for her and Skippy, now i decided that i wanted to mark the day she left us.